Since my last post I drew some more little building sketches and had a little tutorial with Phil (Tutor) and I came away wanting to try and give more of a feeling for the place through my drawing, so with that I borrowed 4 Gnomon Workshop DVD's:
Concept Design with Feng Zhu, Volume 2: Environment Sketching
Concept Design with Feng Zhu, Volume 3: Quick Sketching
Concept Design with Feng Zhu, Volume 4: Digital Painting
The Techniques of Feng Zhu, Volume 3: The Fundamentals of Shot Design for Environments
Had a nice 8 or so hour lay in bed watching them and trying to take in as much as I could to enable myself to get on top of my game and I've got to say it was so helpful and I feel a hell of a lot more confident with where I'm going now.
The techniques of perspective discussed have always tended to flow in and out of my drawing sometime slightly randomly, but by watching these I'm going to try and work to my full potential following Feng's teachings for general scene design etc.
Also here's Feng Zhu's website if anyone want to check out some of his stuff:
Feng Zhu Design
He's awesome :)
Firstly here's some sketches I did before watching Feng in action: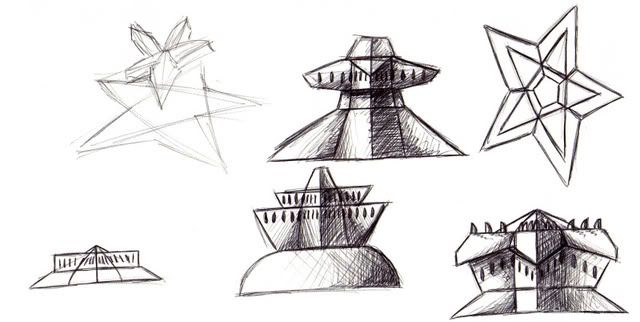 After talking to Phil and watching the above Feng Zhu DVD's I've come to the conclusion of presenting my work as a streaming how to work flow kind of piece so to being with I will show a thumbnail, fade that into a line drawing with the foreground, midground and background shaded, then to a digitally painted concept piece, to wire frame, to an untextured model and finally to fully textured CG.
It's like Lego...
Everyone's built Lego models in their life at some time, playing with the Lego once its built isn't half as fun as actually building it in the first place.
Now I'd like to complete 2 of these full step by step processes as such and have the first 1 play out in order then follow that with a transition in Maya to the second location of my making of process and follow that with the steps in reverse for the second location until the city finally fades into a white screen.
So step 1 begins, Thumbnails:
(Just a couple to get the ball rolling off with)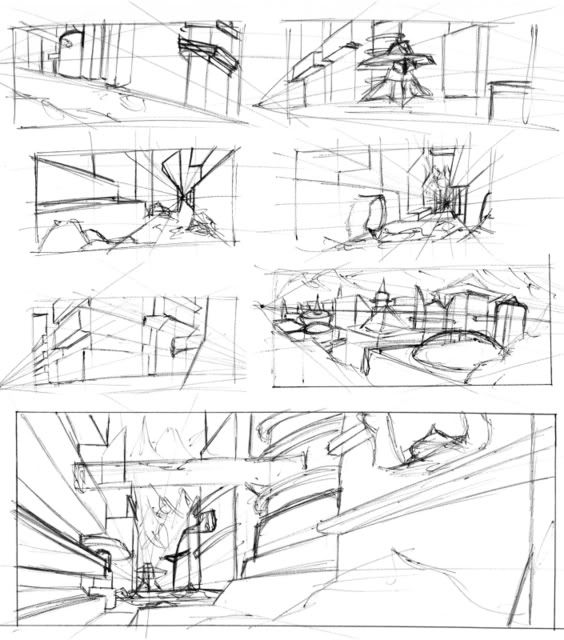 I'm also going to post up a new blog as well and keep this one as general work flow banter as such and have the other mainly comprised of the steps of my work like a process blog (or rather a posh 1 to show off without all the added crap this one's got :P )