Right I've done a few little sketches to try and get me back in to the swing of things which was a bit harder than I thought
I began just drawing off the top of my head thinking about going for a nice picture of in between some of the building but when I started drawing I just couldn't picture anything in my head
And had some rather hardcore block but I just started drawing things that came into my head beginning with the picture on the left as the one on the right is the one I err got stuck on?
It seems far too complex and futuristic for the city though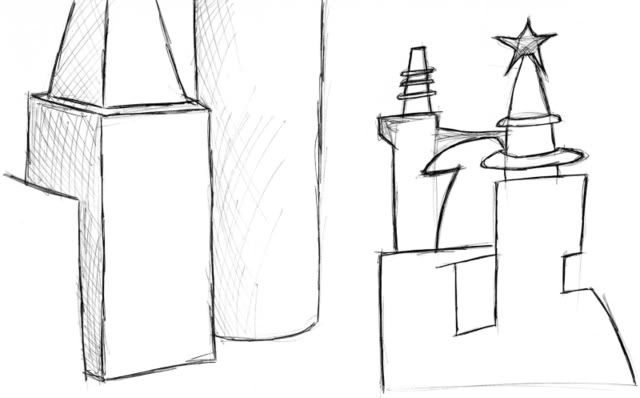 This next one is load of little sketches is still too complex I but the one on the far right and the spiky toped one made me feel like I was getting some where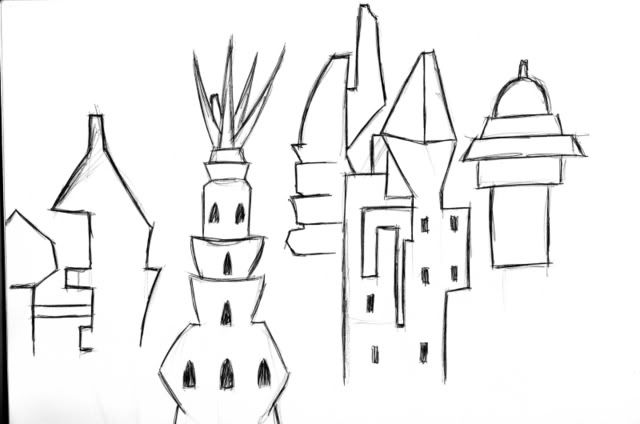 Not so sure about these two really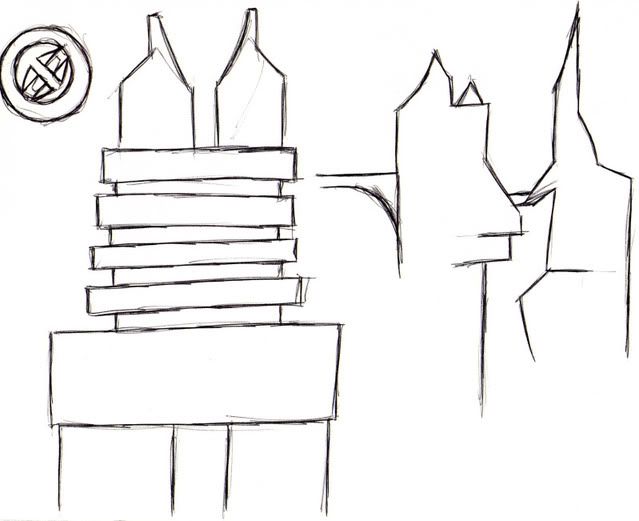 From here I wasn't really getting anywhere so I decided to do a ground plan of how the city would be situated in on to plateau surrounded by peaks, then I made a little previs thing in maya and accidently clicked exit without saving as oppose to with... Never mind! :P
Next I decided to sketch one of the ramparts talked about as being star shaped so I did a little sketching and a couple of developmental ones as I felt like I was getting into the swing of it a little
Next i went and reread the description of the city drawing bits as i went to use as a bit of a direct inspiration bank for the buildings followed by some bridge ideas for between the buildings
In terms of what the hell this picture is of:
The dark patch is the city
The white snakey looking bit running through the city is a river
(with bridges over it)
The scattered squares on the left are dotted buildings
The X's represent the row of peaks boardering the city
(lines running round the picture represent flow of the mountain)
And the bottom side of the picture with the lines running off the edge of the page represents the mountain side decending down the mountain
(Meaning the top right of the picture would be the mountains that the 'old ones' feared crossing for what was on the other side)
Some more building like shape idea's I picked from the book
Then i did a little sketching for the stone blocks that were nestled on the mountains but they don't look very alien going on the description...