Right So I've finished editing sorted all my files out and am ready to burn so I thought I's post an evaluation/ update on how it went as such.
The rendering process went less than smooth to say the least and I feel that I wasted time as rendering a large file with low quality textures which I then followed up by sorting out the file, upping the texture maps and downing the screen resolution. This then brought about much nicer results and I rendered out an ambient occlusion pass to give the piece a more defined real world look, as well as a Z-Depth pass and master beauty pass. I finished off with a wire frame vector render which was also somewhat drawn out by the loss of the Maya licence at uni for a few hours.
I also went and got myself 2 DVD's printed onto with a design with which to present my work on as well as printing CD cases, however getting the DVD's printed onto turned into a bit of an effort due to a spelling mistake on my part then when I went back to reprint them the technicians made a couple of mistakes firstly printing 2 of the same CD's then printing one of the old ones with a spelling mistake on it...
But there all good and done now: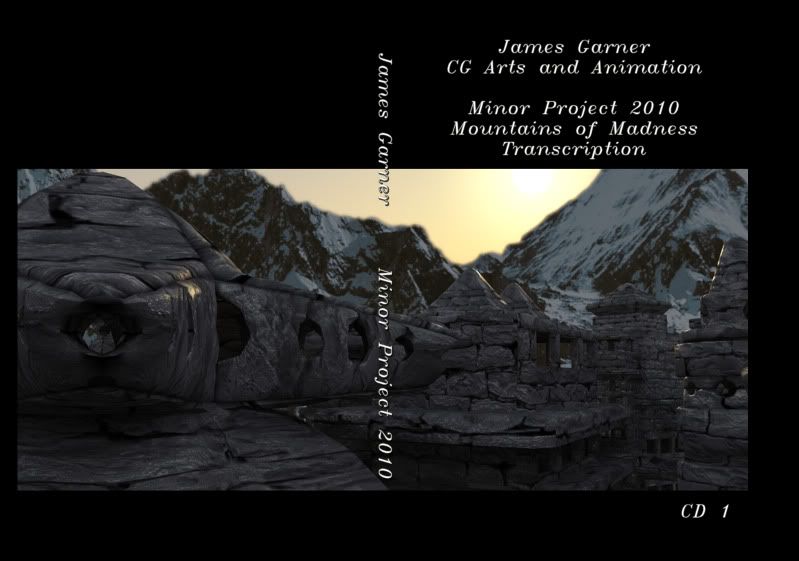 When I came to editing the piece I had previously made up the rest of the sequence using the stills I created via digital painting. So I went into After Effects after watching various tutorials on compositing and began compositing my renders. I hit a number of bumps along the way due to lack of experience with the software such as not being able to import an image sequence at 25 fps which took me some time to decipher how to change it and not being able to input the Z-Depth for my piece so I ended up creating the final movie without depth of field applied.
Editing went smoothly but one large problem has occurred with my final piece which just keeps staring me in the face every time I watch it. I ended up editing it all in 4:3 as oppose to 16:9 so therefore my final movie has nice huge boarders surrounding it. What's more due to this and it not being edited at the size I created it for the quality has been reduced greatly and I'm frustrated to find that whilst toying with after effects as editing out my clips in 4:3 I found I had a copy of 2 of them in their original size. I must admit when I started this project I setup my work from Maya's 70mm projection film gate (roughly 15:6.5) thinking it gives a nice wide low picture which is what I wanted from my work to enhance the filmic aspects. However I now just wish I'd gone with 16:9 as due to various errors in my editing process I ended up editing the entire piece and creating a movie in 4:3. With regards to the editing in terms of sound and cuts with the music etc I feel it has been successful but where I just feel that the quality of the picture lets it down so dramatically.
I'm please with the overall results but feel that my work is brought down by being of slightly lower resolution which in all honesty has left me a little disappointed.
But other than that I'm pleased with what I've created.
If I was to change anything I think I'd like to see spares snow on parts of the buildings as I feel that with the concept sketches of snow on the buildings it feels like there's another bit of each little scene to go where the audience gets to see the snow on it which leaves it feeling a little incomplete as well as break the lighting link between the mountains and the light to stop the top of the city having shadow cast over it.
Here's some progress screen shots: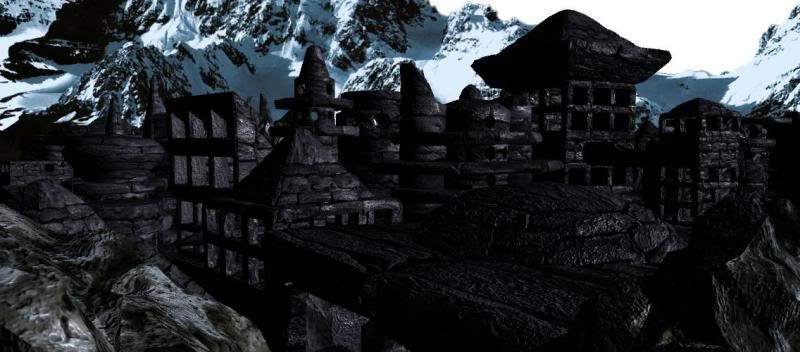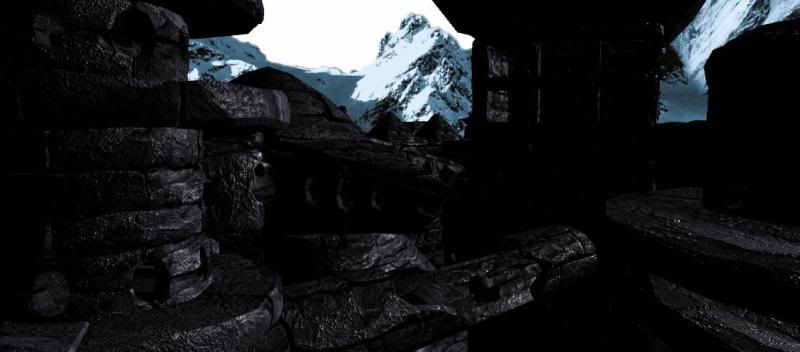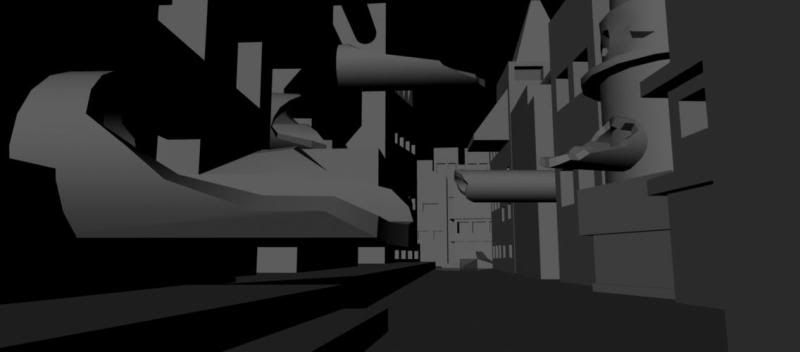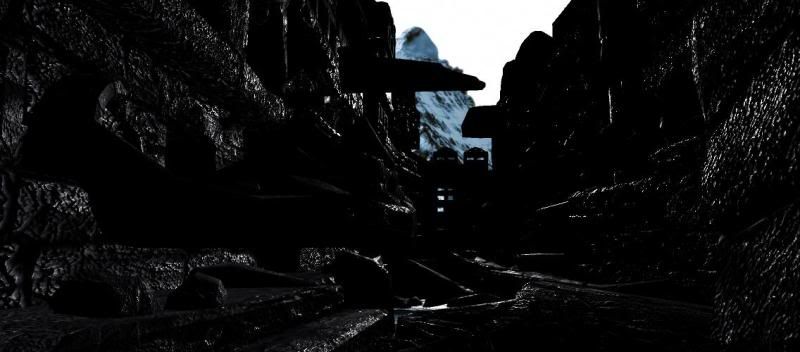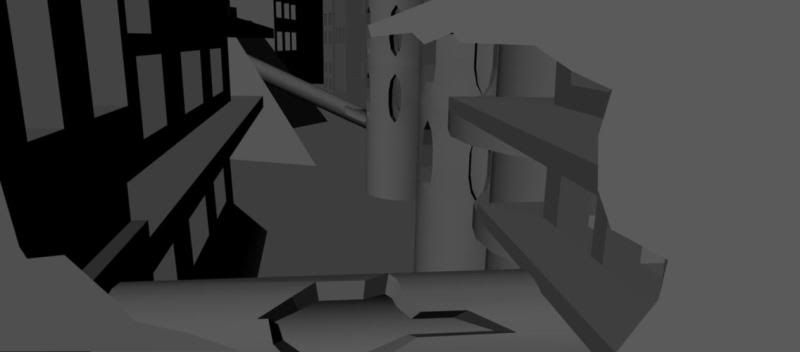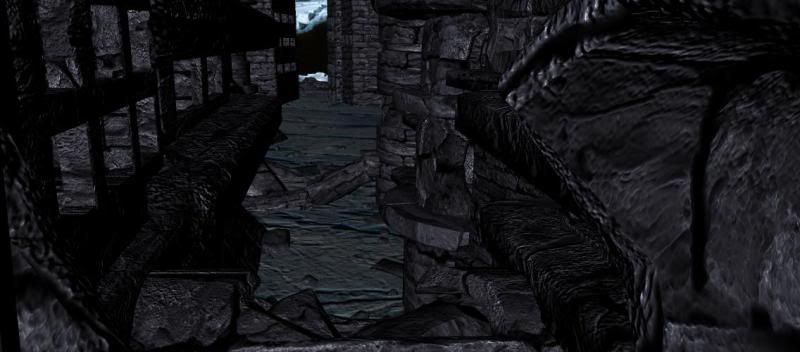 Here's a few software renders of the city: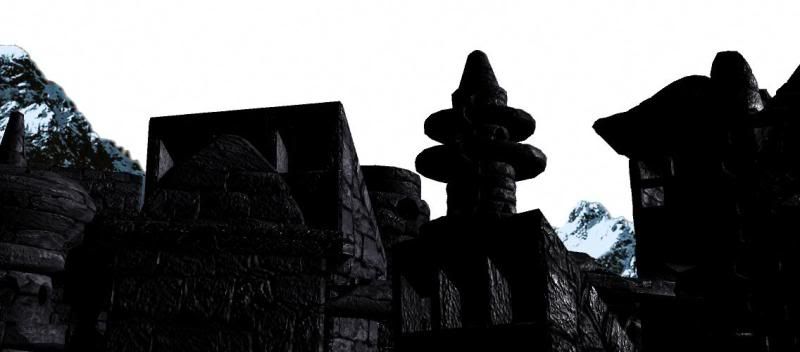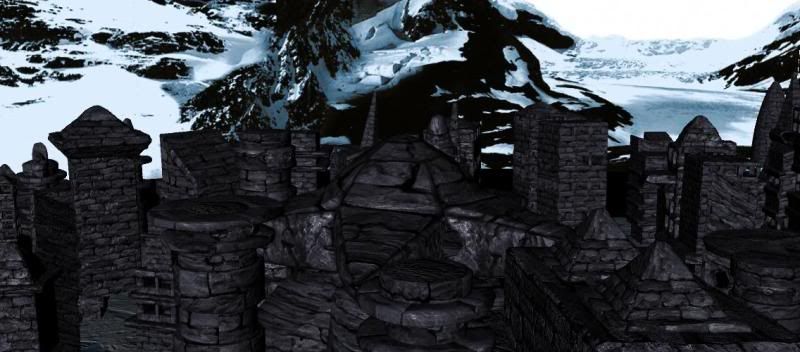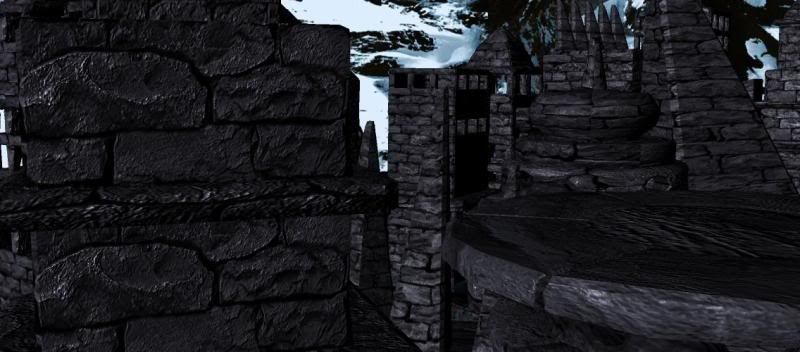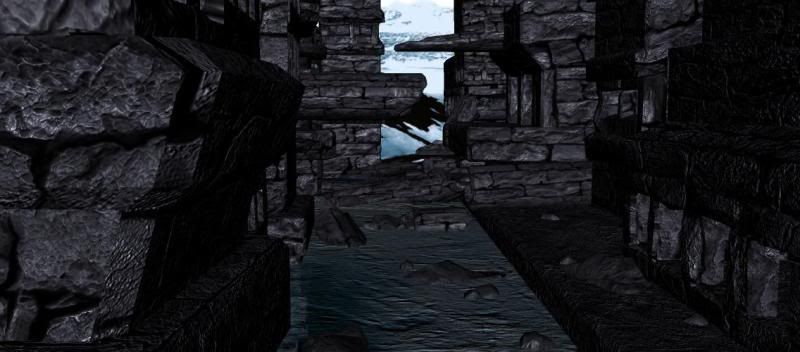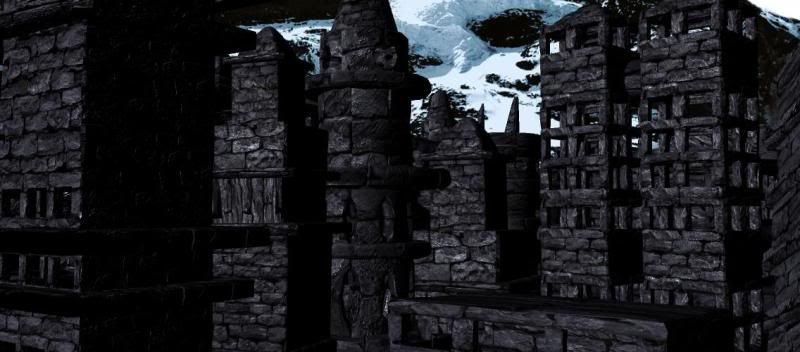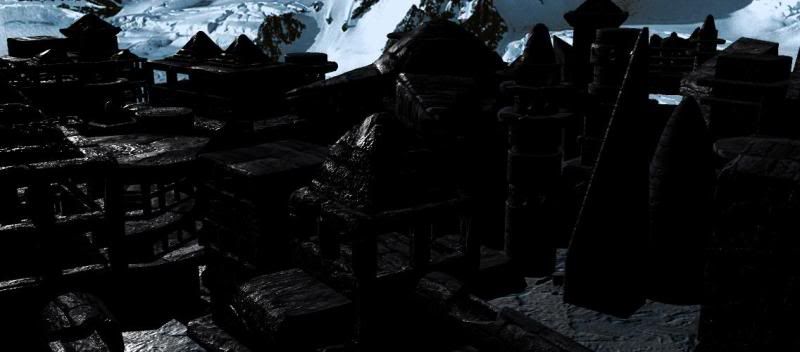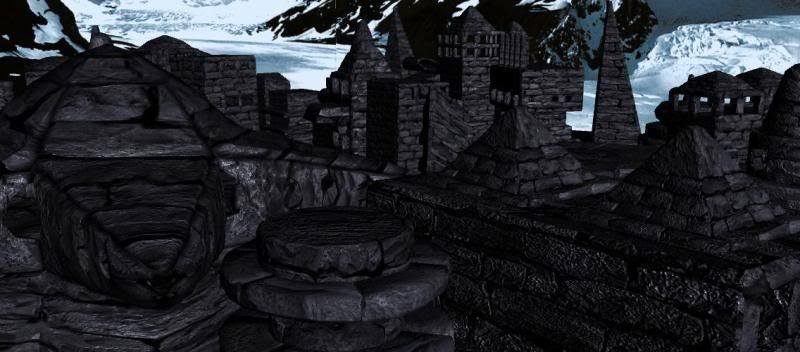 Post Render shots of the city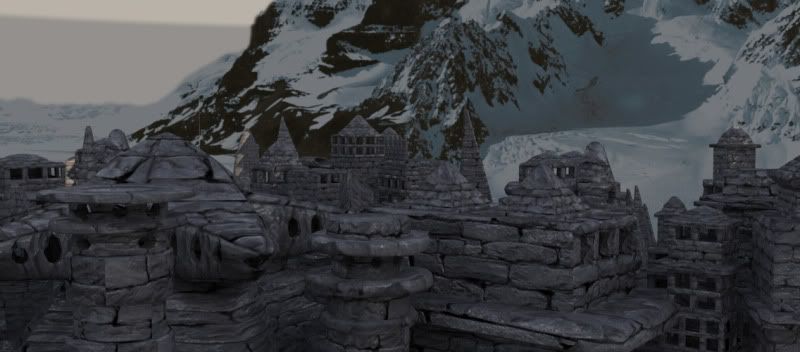 From here down are a few shots of the altered lighting which is sadly not present in the final render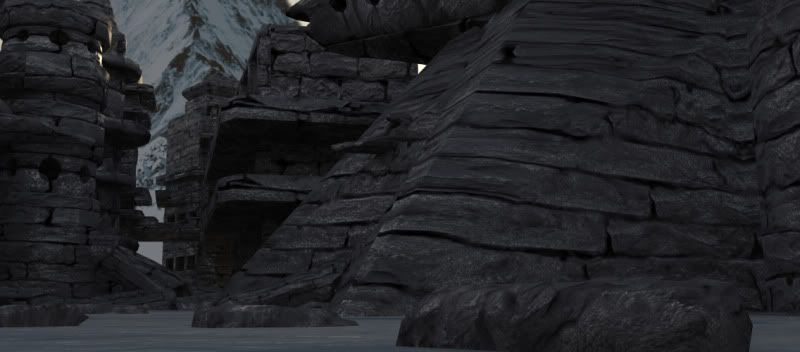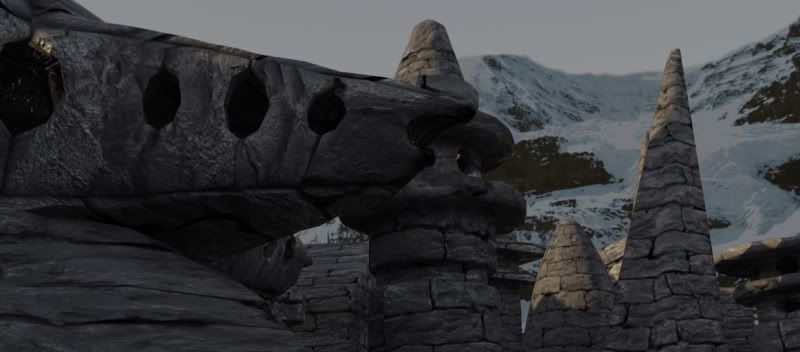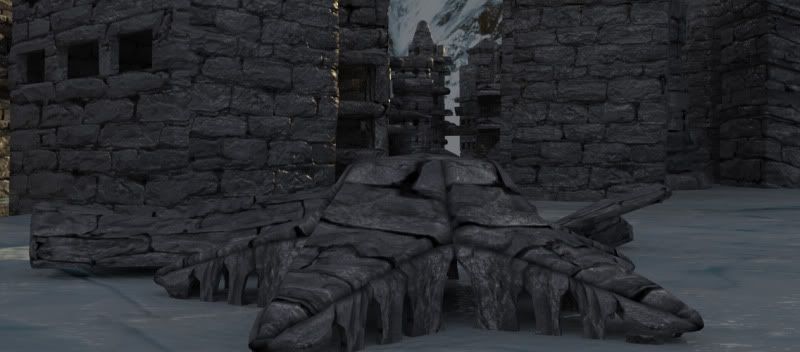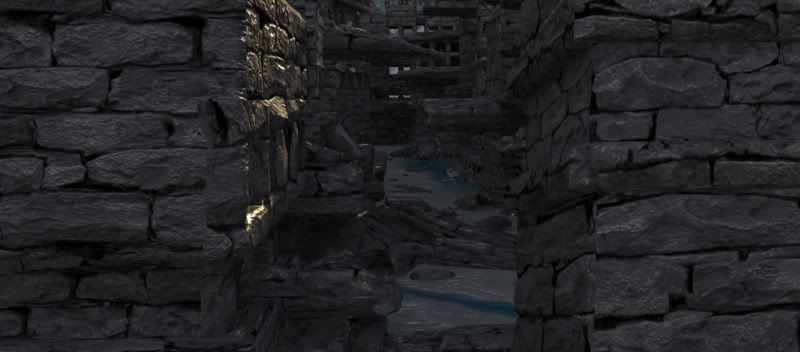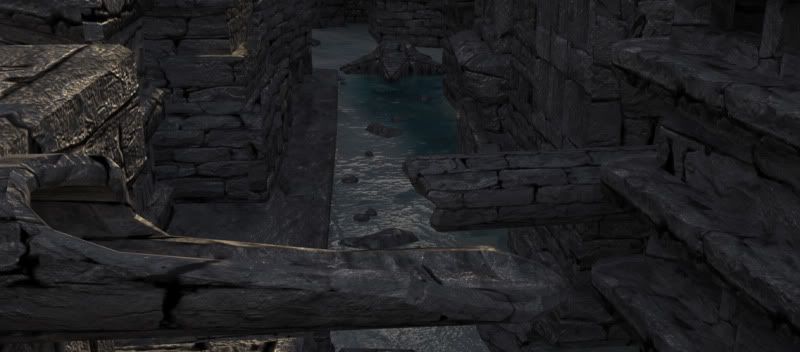 Here's a number of renders of the first and last frame of each scene with the lighting link broken between the light and the mountains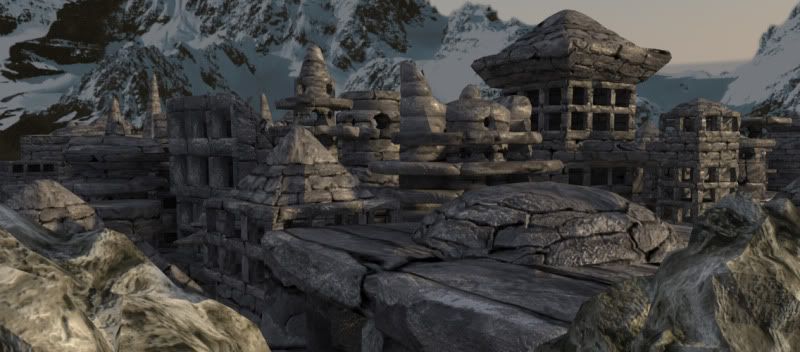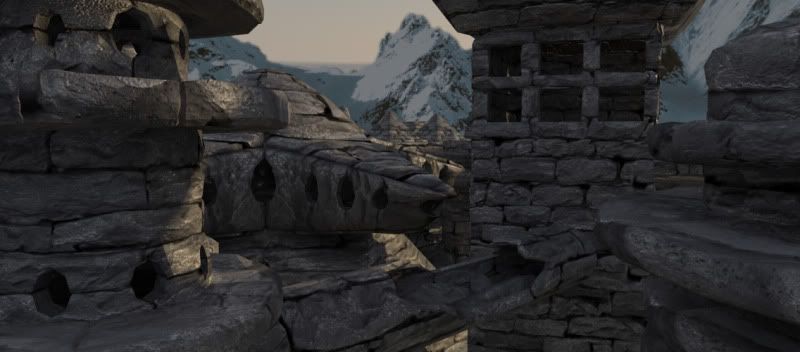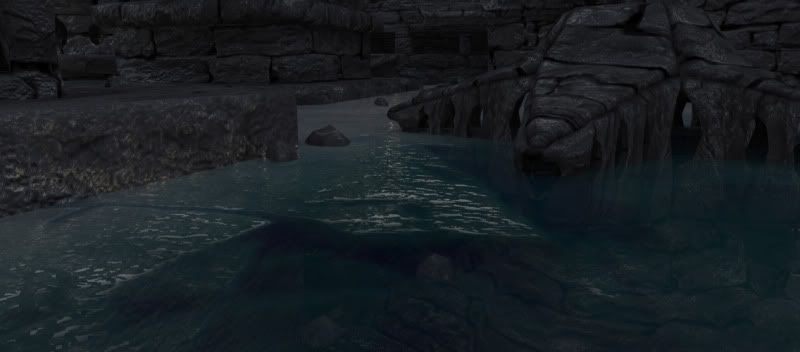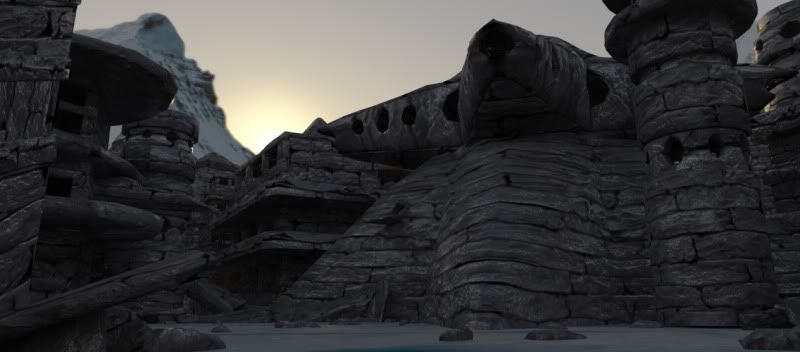 Once I'd writtern the part at the top I had a change of heart and decided to spend the night re-editing my final piece and I did.
(Yes I've been slowly writing this all night)
It's much better now:)
Only problem is that all the hours of me cutting the footage in Premier to fade to the music small seem to have been offset slightly so the frames do not change and fade with the music but there's nothing i can do about that and it might even just be windows media player doing it, but other than that I'm happy!
*Just realised didn't acredit the music on the actually video...
So the music is: Vangelis - Rachel's Song*