As with the title I'm going to backdate through my work as iv only just sorted this Blog out properly as I was to busy doing other stuff to pussy around with this.
So,
Firstly I'll start by saying how drained I feel just to set the mood.
I got a promotion at work just as I started this project which is wikid as I get an extra £1.50 an hour on my wages and I'm boss! :)
Also this is when a 2000 word Postmodernism essay caught up with me and I though i better start it.
Anyway enough about me your here to see all the lovely pictures iv done!
This week was the first week on the character design project and the entire week was taken up by a dude that used to work for Disney named Justin coming in to uni to got through the basics of character design.
I really enjoyed this as I haven't drawn much in ages and I picked up a few things here and there as well. Such as:
Square shaped characters = Powerful, Circles = Happy and more fun (like babies), and then Triangle = Evil etc
This seems really simple n iv been drawing a bit like this for years but it had never actually occured to me like this before.
Another interesting fact that i learnt is blue pencils done show up on scanner which was kool.
Until I scanned all the pictures id drawn only to realise didn't come out to well due to being in blue pencil and no amount of photoshopping could save them. This is the main reason iv taken so long to get this blog sorted the fact i wanted them done and out of the way so iv been inking them up in 'Berol Fine line' pens. (I love inking stuff with these been using them for years)
So anyway there all scanned now, well that's a lie but by the time i post them up on here they will be.
I didn't realise how much of a mish scanning is :s
My room is right next to the study and my the PC in my rooms not liked upt to the scanner so I've got the PC in the study booted up scanning pics and im running between the two bashing out work and scanning at the same time although i seem to be bashing more work out than scanning which is annoying as its taking ages!
The week begun with us choosing a character and bringing in a number of picture so we could deconstruct the character, therefore I chose 'Raziel' from the 'Legacy of Kain' games series as iv always thought he's about the koolest character iv ever come across backed up by a wikid back story:
He was a general in an army of vampire slayers the 'Sarafan' then is turned into a hybrid vampire by Kain the vampire all the games mostly revolve around, and Kain makes him his top general. After years of serving him Kain's hybrid generals Raziel and the other generals of the Sarafan Kain has turned start going through evolution and becoming less basic vampire an more divine hybrid vampire. Raziel overtakes Kain in this state of change and grows wings, with this Kain becomes jealous and rips the bones from Raziels wings and gives him a traitor's death of being thrown into 'the lake of the dead'.
(The vampires in the game cannot go into water or it burns them similar to the way sunlight does although in the games these hybrid vampires have evolved past not being able to go out in the sunlight)
Following this Raziel reawakens transformed and warped where his body has been partially burnt away by the water the god of the world resurrects him as his soul reaver and it turns out the god is not a god but a parasite on the planet feeding off the souls of the dead.
So yeah little insight into Razman and here's a few pics I drew that day: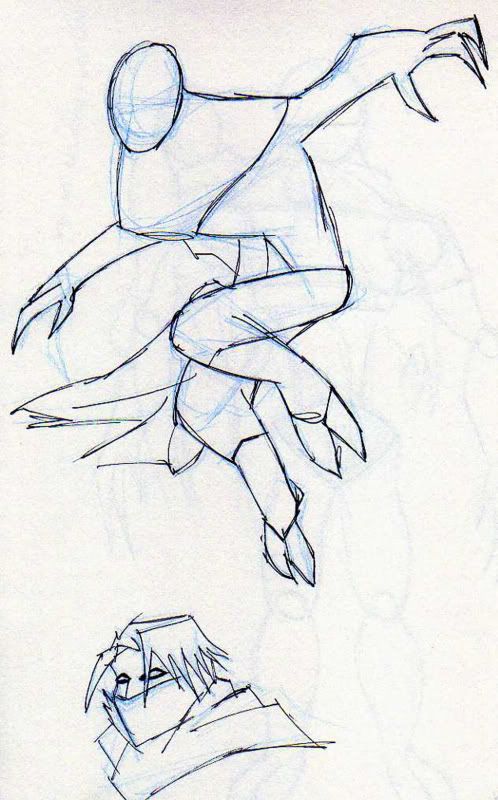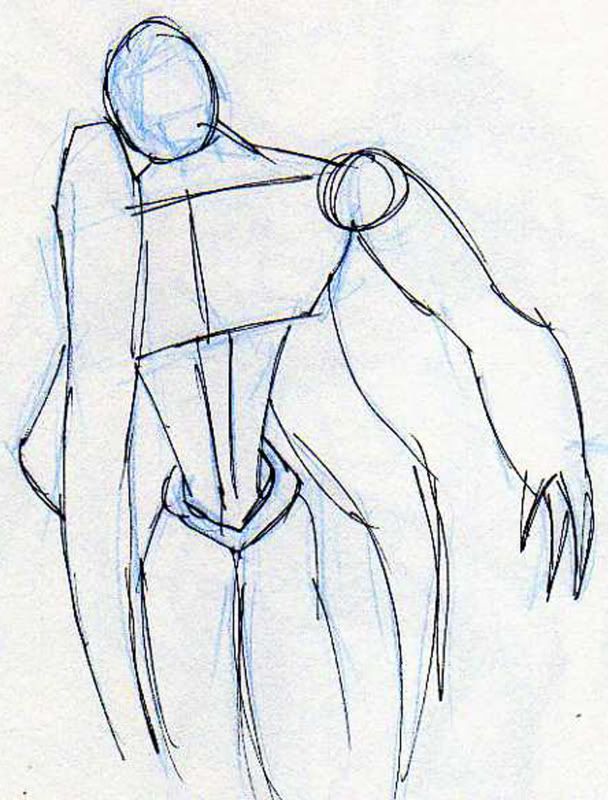 I added a bit of detail in this one as I got a bit bored with just drawing poses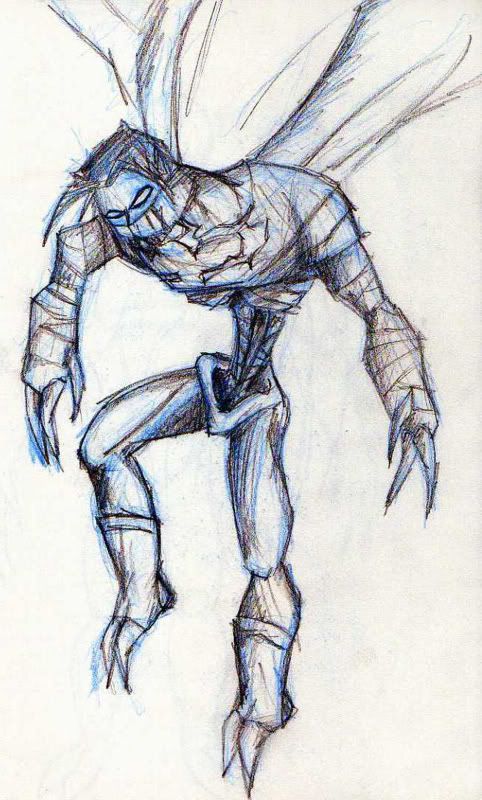 And then this one is a little play on body for just making Raz skinnier and a bit more angular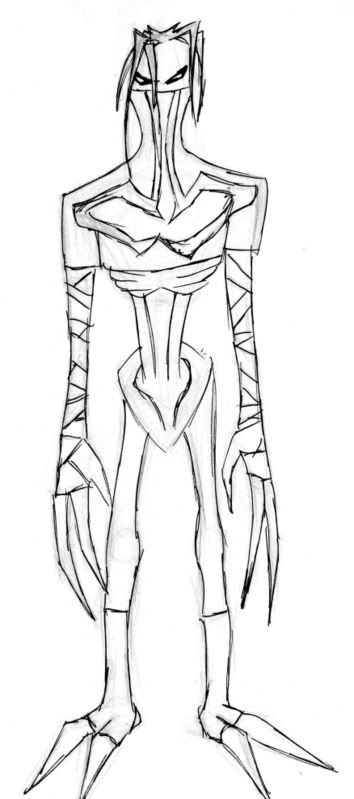 Then we did some more stuff to do with character posing which i found quite frustrating as if i start drawing a picture i want to make something of it as oppose to it just being plane stickman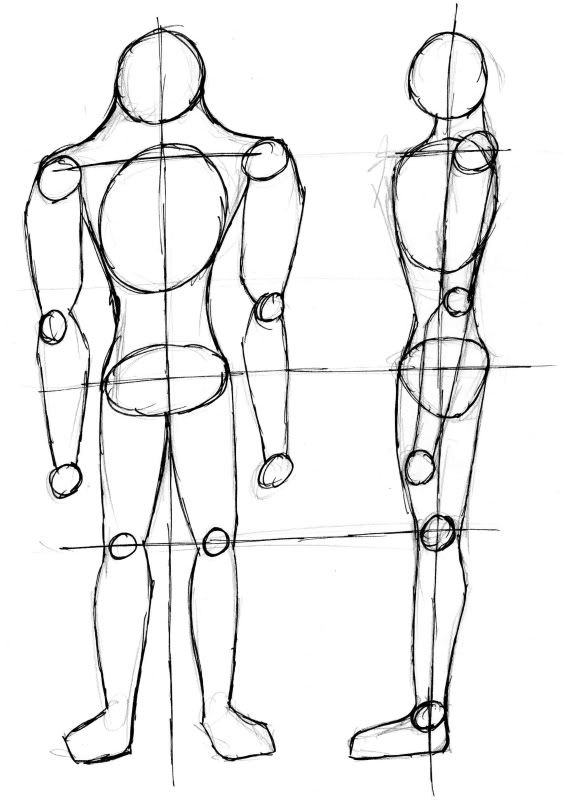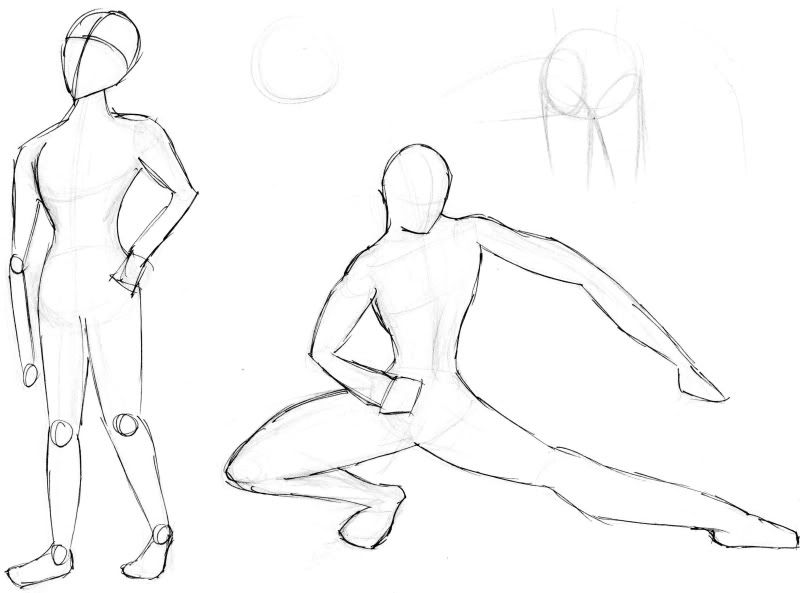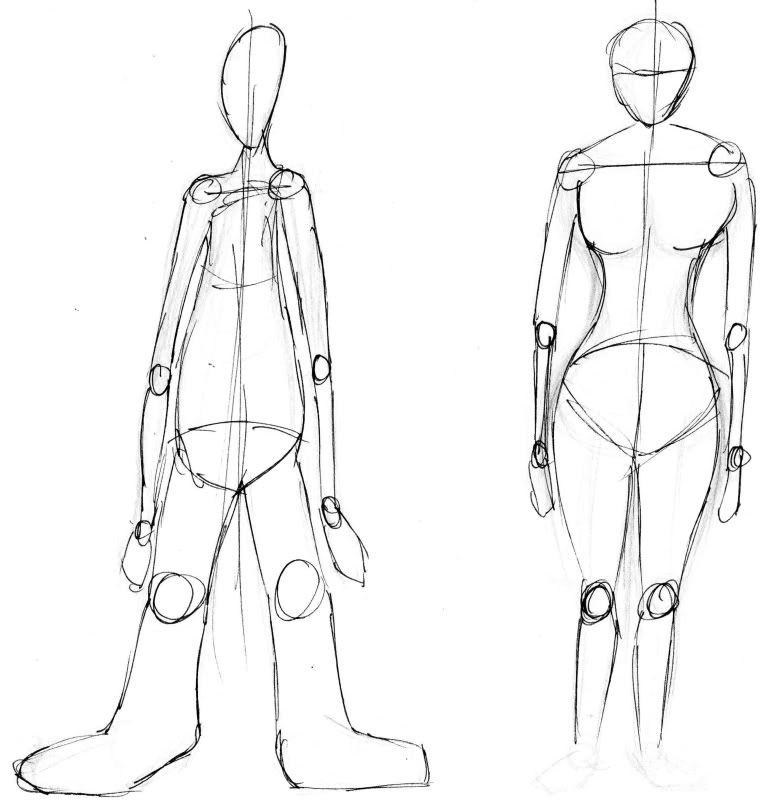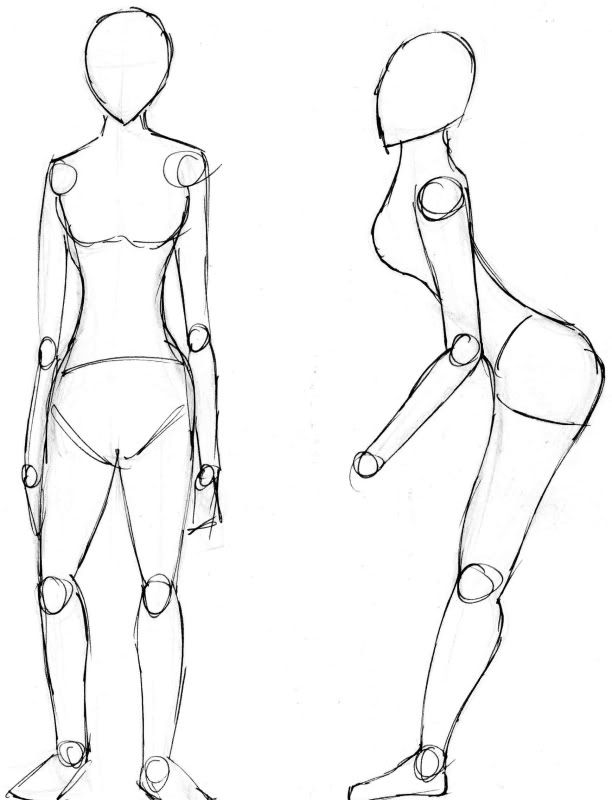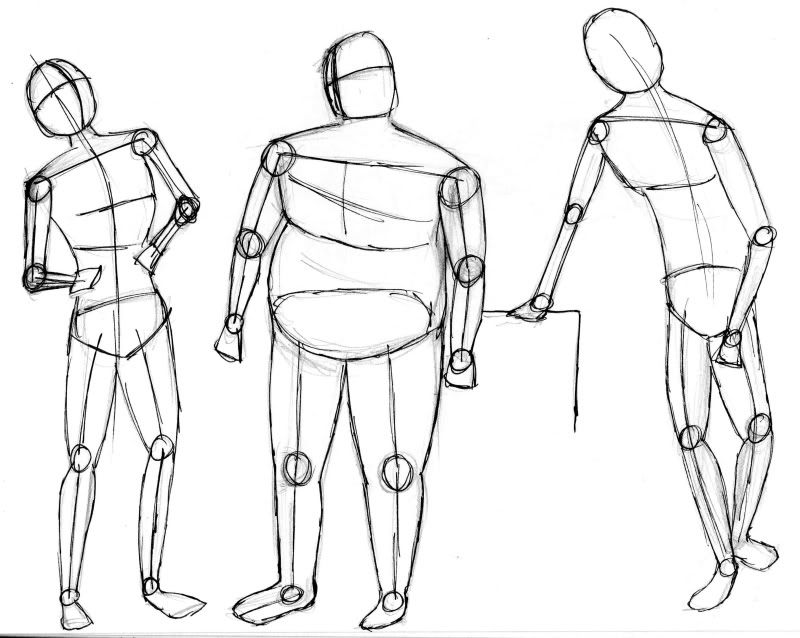 Next we were given a sheet of paper with various character synopses on and we were to choose one and draw what we thought that character would look like
So I drew this girl called Tessa Brainstorm who in the grand scheme of this little story was some ditzy pretty clumsy girl who fancied the main character but is slightly tomboy n he never notice her in that way and she was also the chief mechanic on the spaceship and daughter of the nutty professor.
Might sound weird by I actually kinda based this on my sister....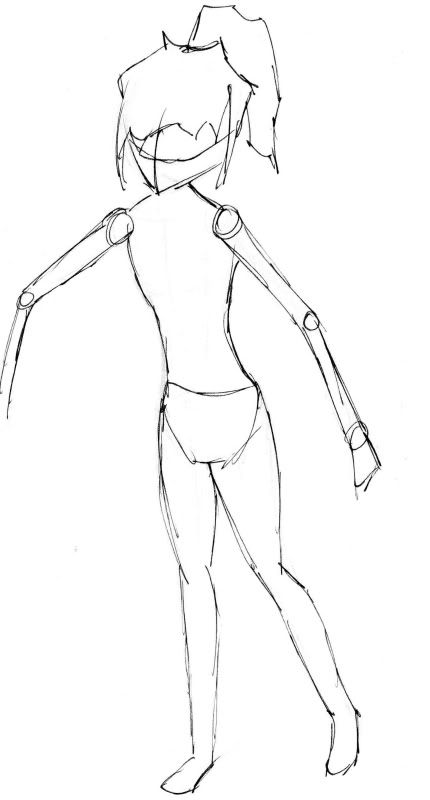 Quite like the central one looks pretty believable in that role
Next we were told to do another so i decided to do the evil villain in the story a dude named Dr Kromozone typical evil mad scientist mate trying to take over the world blaa blaa blaa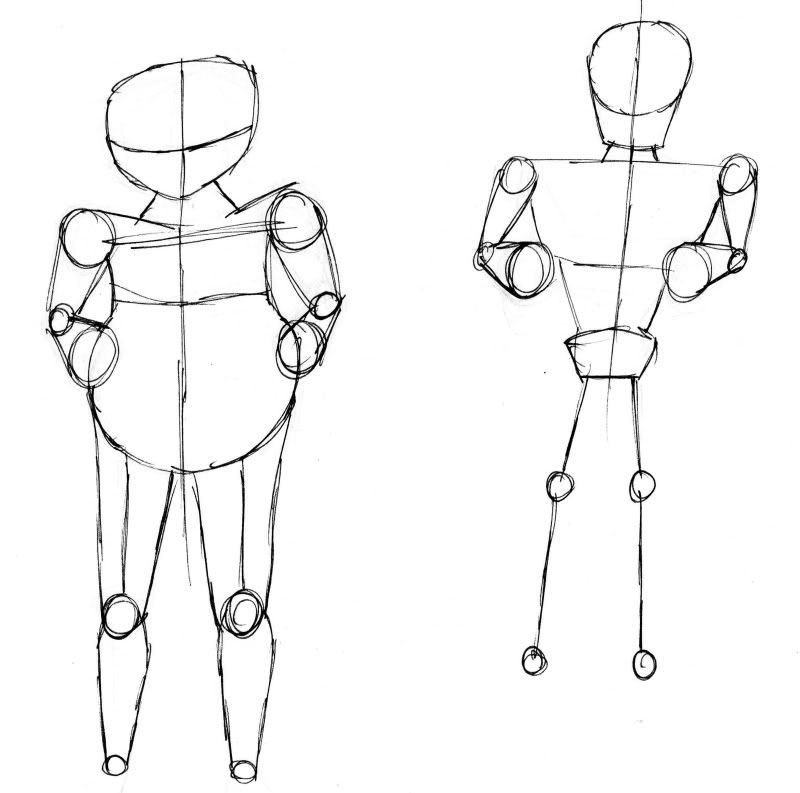 'The Lab man'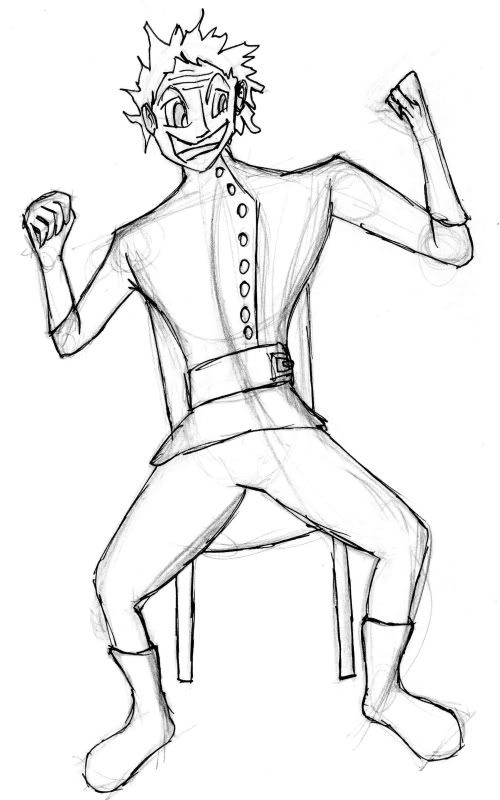 This last one is me going back into anime mode really n getting a little carried away as I used to draw anime stuff all the time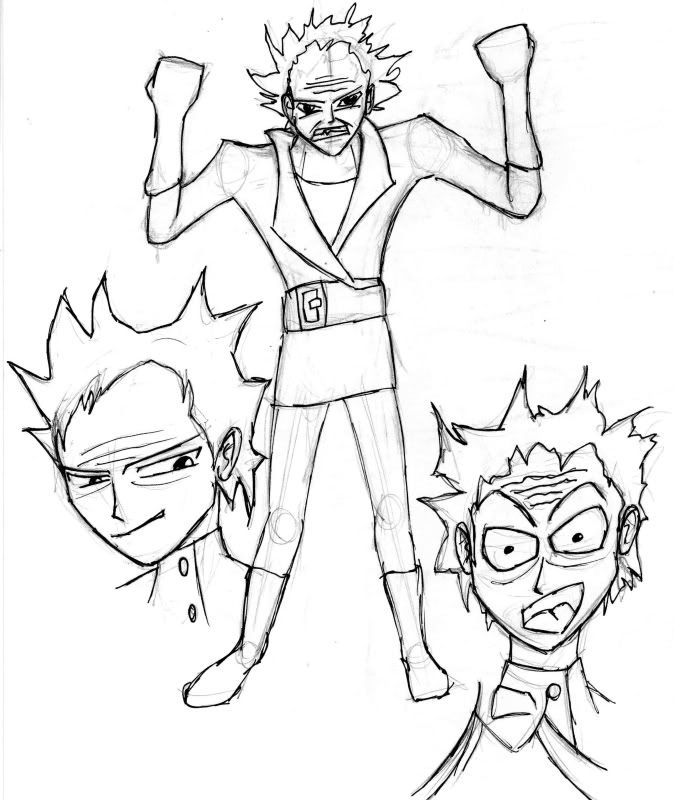 Next bit of the week we were told to make some kinda creature a bit of a hybrid of other creatures, so here's what I busted out: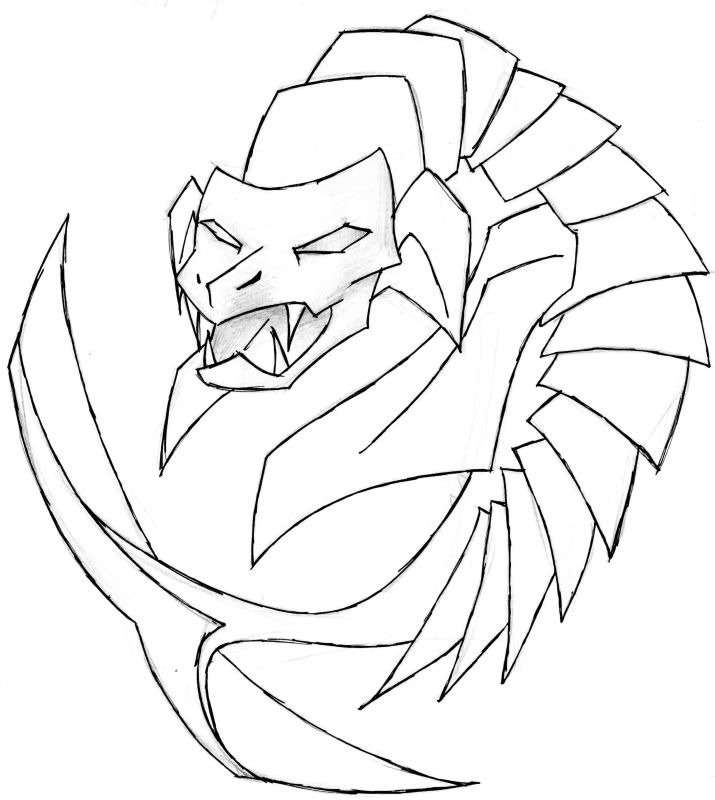 Then we went back to the lil story and had to design the villains henchman i decided do exactly what it says much a hench man
I quite like this dude bit of a beefcake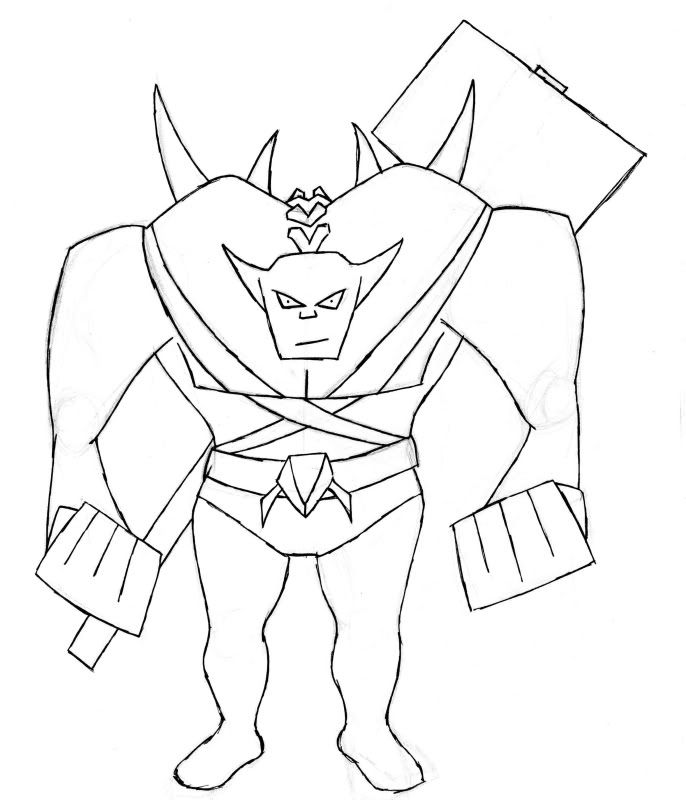 Following this we had to create the ships little robot helper which was more of a pain in the ass than help
Bit wall-e-esk this one :s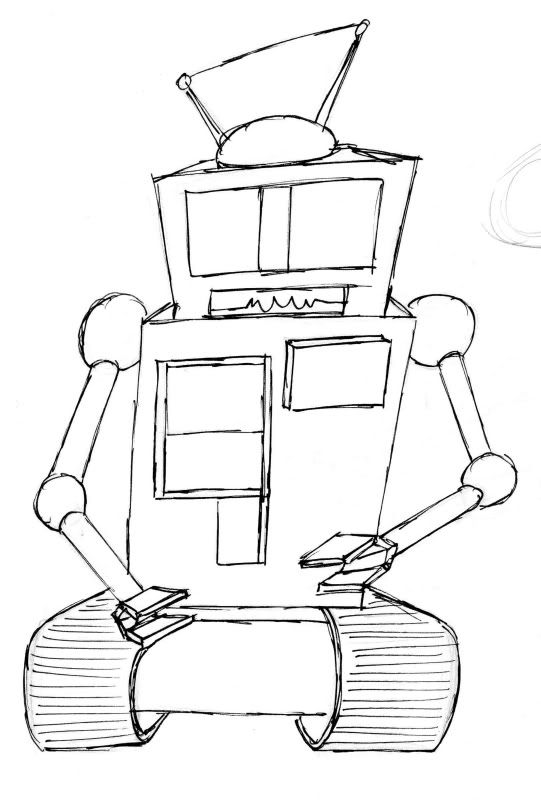 Lastly we were told make a character or creature which is a hybrid of genres
So here's my little cybrog dragon :)
I can't believe how much effort uploading all this stuff has been!
I uploaded everything into photobucket as I thought il just load it up as IMG links as I'm a member of a forum where that's how u post up photos different story here tho. I went all the way through linkin IMG's n they didn't work so tried the blogger uploader thing which is pretty rubbish but in the end worked out u need to load up the html code for the pics to show. Mucho annoyance
Got there in the end tho!